ThrillCampers Pawna Camp A offers a unique opportunity to camp by the Extreme lakeside, surrounded by lush greenery, with the Sahyadri mountain range in the backdrop.
The highlight of the camping experience at Pawna Camp is the range of activities that the campsite offers. The campsite also offers water sports like kayaking and boating to make the most of your time by the lake.
The food at Pawna Camp is another highlight of the camping experience. The campsite offers a range of cuisines, from local Maharashtrian cuisine to North Indian and Chinese cuisine. The food is freshly prepared and is served buffet-style. The campsite also allows its guests to cook their own food if they want to, with a barbecue grill provided for the purpose.
In conclusion, Pawna Lake Camping with Pawna Camp is an experience that one must not miss. With its serene location, range of activities, and delicious food, it is the perfect weekend getaway from the hustle-bustle of the city. The campsite offers an opportunity to disconnect from the world and reconnect with nature. So, pack your bags and head to Pawna Camp for a unique and memorable camping experience
Check in at around 4 Pm with your friends or family, Our staff is always ready to welcome you with a smile.
You will get your tents in a while, You can put your luggage (Don't carry expensive things) inside the tents that you have allotted.
Hang out around the backwater of Pawna lake.
As you come back snacks will be ready for you.
Play some outdoor games like cricket, volleyball, badminton, archery, and dart, Indoor games are also available like carrom, chess, cards, and ludo.
You will get a BBQ from around 7 PM to 8:30 PM.
Enjoy live music with your loved ones.
Have fun with loud DJ music with your friends or family.
Dinner will start from 10 PM to 11:30 PM with peaceful music.
Bonfire after 10:30 PM.
Silent hours will start from 12 AM to 7 AM, it's time for stargazing and some sleep.
Next day Breakfast will start from 8 AM to 10 AM.
Capture some memories in your camera and Check out with a smile before 11 AM.
Welcome snacks: Tea and Pakoda
BBQ : (250 gm per person)
Veg BBQ – Marinated Panneer, Fruits, and assorted vegetables.
Non Veg BBQ – Marinated Chicken with some assorted vegetables.
Dinner : (Unlimited)
Veg Dinner – Mix veg or Paneer Masala, Dal Tadka, Chapati, Salad, Jira Rice, and one sweet dish.
Non Veg Dinner – Chicken curry, Dry chicken masala, Chapati, Jira rice, and sweet.
Next day Breakfast: Tea and Poha/ Upma.
       Indoor games
       Outdoor games
volleyball
archery
badminton
cricket
dart
       Water sports (Not included in the package)
Highlights of Pawna Camp-A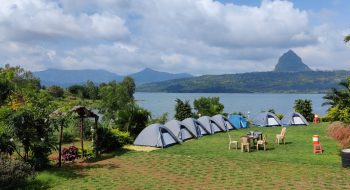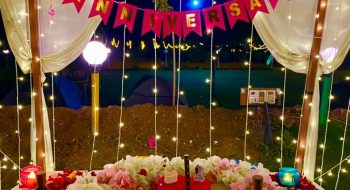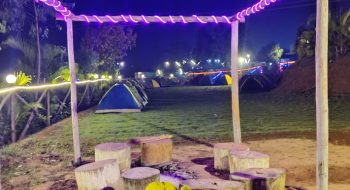 Things to carry for Pawna lake camping
 Carry some extra pairs of clothes.
toiletries like toothbrush, toothpaste, and towel.
Warm clothes in the winter season.
Camera to capture good memories and beautiful landscapes.
Umbrella or Raincoat in Mansoon.
Flip flops or Chappal.
Personal medicines.
Torch
Our team is here to help You.
Let's talk with our Guide!
         House Rules :
 Check-in: after 3 PM Check-out: Before 11 AM. Check-in or Check-out time may vary according to the guest.
Advance/ full payment is mandatory for booking confirmation.
The payment balance should be settled upon check-in.
Any damage to the property caused by the guest will be charged as per the actual cost of repair or replacement.
Respectful behaviour must be shown towards all camp participants, staff, and service providers; any inappropriate conduct could lead to an immediate check-out without refund, and further action may be taken if necessary
 Pets are permitted but their food and bedding must be brought by the guest, who takes responsibility for them
40% of the advance amount is non-refundable in the case of full cancellation, but the user can postpone their booking for up to 6 months.
Guests are eligible for a 60% refund if they cancel their confirmed booking up to 15 days before the Date of Check-In.
If they cancel within 5 days of the Date of Check-In, no refund is available. If changes to the number of adults or children after booking confirmation occur, Thrillcampers must be notified at least 24 hours prior to check-in (3 PM). Failure to do so will result in no refund being provided by the company.
Special Offer - hurry up!
Use code GROUPOFF10
get 10% discount on group booking (Minimum 10 pax)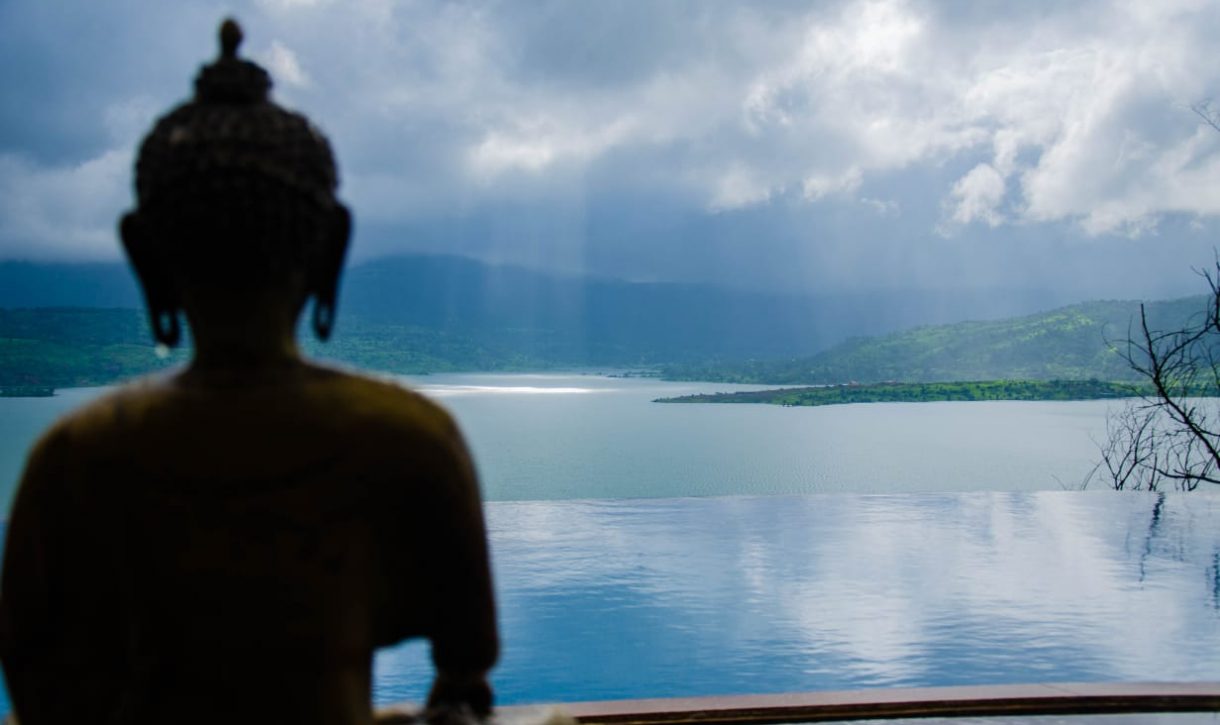 Spacious AC Cottages in Pawna lake