About Pawna lake camping for couples
Welcome to Pawna Camp-C, the ultimate pawna lake camping resort for couples looking for a romantic and peaceful camping experience. Our campsite is situated on the banks of the picturesque Pawna Lake, surrounded by rolling hills and lush greenery. Pawna Camp-C offers a perfect getaway from busy and chaotic city life, making it an ideal destination for those seeking a peaceful retreat.
At Pawna Camp-C, we offer two types of accommodations: regular tents and swiss tents. This campsite offers Pawna lake camping and cottages in the same place. Let's take a closer look at both options:
Regular Tents: Our regular tents are perfect for couples who want to experience the thrill of camping without compromising on comfort. Each tent is equipped with foam mattresses, blankets, bedsheets, and pillows. Our regular tents offer a rustic charm that is sure to transport you to a simpler time.
Swiss Tents ( Pawna lake cottages ): Our swiss tents are a perfect blend of luxury and adventure. These tents offer a touch of luxury amidst the natural beauty of Pawna Lake. Swiss tents are spacious and furnished with all the necessary amenities to ensure a comfortable stay. Each swiss tent is equipped with a comfortable bed, clean linen, cooler, fan, and a private seating area. These types of tents are ideal for pawna lake camping for couples.
Apart from comfortable accommodation, we offer several features and specialties that make us stand out from the rest:-
Scenic location: Our campsite is located on the banks of Pawna Lake, offering breathtaking views of the sunrise and sunset over the lake.
Adventure activities: We offer a range of adventure activities such as trekking, boating, Kayaking, and bonfire nights to add some excitement and thrill to your camping experience.
Delicious meals: We serve delicious and wholesome meals prepared with fresh, locally sourced ingredients. Our meals are served in a beautiful dining area, where couples can enjoy a romantic meal under the stars.
Special Birthday/ Anniversary Celebration: We believe that every special occasion deserves a memorable celebration. Whether it's a birthday or anniversary, our campsite offers unique and unforgettable experiences that you and your loved ones will cherish for years to come. We offer a range of customizable decoration packages to meet your specific needs and preferences.
Personalized service: Our staff is friendly, courteous, and always willing to go the extra mile to ensure that our guests have a memorable stay.
Memories for a lifetime: We believe that camping is not just about spending a few nights in the wilderness; it's about creating memories that last a lifetime. We strive to provide our guests with an unforgettable camping experience that they will cherish forever.
So, why choose Pawna lake camping for couples for your next camping trip? Because we offer a perfect blend of adventure, luxury, and tranquility. Our Pawna lake camping for couple is easily accessible from Pune and Mumbai, making it a convenient destination for couples looking for a quick escape from the city. Book your stay today and experience the beauty and tranquility of Pawna Lake like never before
Check-in at Pawna camping around 4 PM with your companions.
Receive a warm welcome from our friendly staff.
Get allotted tents to store your belongings.
Relax by the backwater of Pawna lake.
Enjoy snacks and participate in outdoor/indoor games.
Indulge in a mouth-watering BBQ and enjoy live music from 7 PM to 8:30 PM.
Dance to loud DJ music in the evening.
Have dinner with calming music from 10 PM to 11:30 PM.
Gather around the bonfire after 10:30 PM.
Sleep and stargaze from 12 AM to 7 AM.
Enjoy breakfast from 8 AM to 10 AM the next day.
Capture some memories with your camera and check out with a smile before 11 AM.
Meals that included in Package
Enjoy welcome snacks consisting of hot tea and pakoda.
Indulge in a mouth-watering BBQ with 250gm per person:
Vegetarian BBQ with marinated paneer, fruits, and assorted vegetables.
Non-vegetarian BBQ with marinated chicken and assorted vegetables.
Relish unlimited dinner options:
Vegetarian Dinner with mix veg or paneer masala, dal tadka, chapati, salad, jeera rice, and a sweet dish.
Non-vegetarian Dinner with chicken curry, dry chicken masala, chapati, jeera rice, and a sweet dish.
Wake up to a delicious breakfast of tea and poha / upma / omelet bread on the next day of your Pawna lake camping for couples.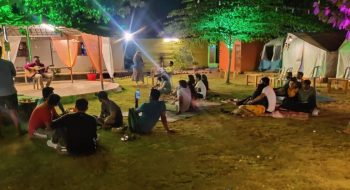 Things to carry for Pawna lake camping for couples.
If you're planning to go camping, make sure to pack the following items:
Extra clothing to account for weather changes and unexpected situations
Toiletries, such as a toothbrush, toothpaste, and a towel, to maintain personal hygiene
Warm clothing for cold weather during the winter season, to keep you cozy and comfortable
Insect repellent and sunscreen to protect your skin from bug bites and harmful sun rays
A camera to capture the stunning scenery and create lasting memories of your trip
An umbrella or raincoat for the monsoon season, to stay dry in case of rainfall
Flip flops or comfortable sandals for easy and breathable footwear
Any personal medication you may need, to stay healthy and well during your trip
A flashlight or torch for illumination at night, to help you navigate around the campsite
It's important to carefully review your packing list before setting out to ensure you have everything you need for a successful and enjoyable camping experience.
Our team is here to help You.
Talk with our Guide!
To ensure a pleasant stay for everyone, we have established the following house rules.
Check-in time is after 3 PM, and check-out time is before 11 AM for all guests, This may vary. Please note that we require advance or full payment to confirm your booking and the remaining payment must be made during check-in. Any damage to the property caused by guests will be charged at the actual cost of repair or replacement.
We expect all guests to behave in a manner that does not harm other camp users, staff, or service providers. If any inappropriate behavior occurs, we reserve the right to ask the guest to check out immediately without any refund. If the guest refuses, we may have to involve higher authorities.
Pets are allowed on the premises, but guests are solely responsible for their pets' well-being. Please bring your pet's food and bedding. Please make sure to read and understand all of the rules before booking
Our cancellation policy at Thrillcampers is designed to be fair and transparent for all guests. Here are the key details to keep in mind:
If you need to cancel your booking entirely, please note that 40% of the advance amount is non-refundable. However, you can choose to postpone your booking for up to 6 months to ensure you don't lose out entirely.
If you cancel your confirmed booking up to 15 days before the date of check-in, you will be entitled to a refund of 60% of the full amount.
If you cancel your confirmed booking up to 5 days before the date of check-in, you will be entitled to a refund of 40% of the full amount.
If you cancel within 5 days of the date of check-in, unfortunately, you will not be entitled to any refund.
Please note that if the number of adults or children in your party changes after booking confirmation, you must inform us at least 24 hours before check-in time (3 PM). Otherwise, we will not be responsible for any kind of refund.
We understand that plans can change unexpectedly, but we hope that our cancellation policy provides some flexibility while also ensuring we can maintain the highest level of service for all our guests. If you have any questions or concerns, please don't hesitate to reach out to our team.
Use code GROUPOFF10TC
get 10% discount on group booking (Minimum 10 pax)